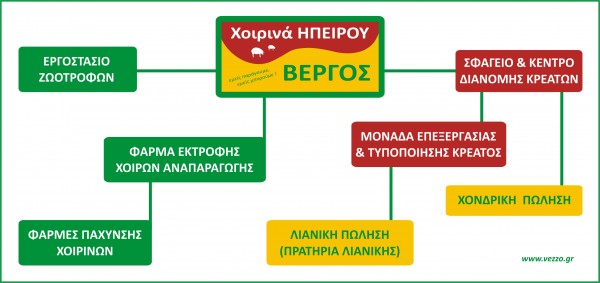 Vergou Family trades in the production and marketing of pork meat and is in the region of Vathi Gorgomylos and around it (wider area of Filippiada) of the Municipality of Ziros in Epirus. The family has proprietary pig fattening farms and pig breeding farm. In addition, for commercial reasons and to cover the needs for animal feed the family has created and operates a feed mill factory. It has also a proprietary slaughterhouse (in Kerasonas Filippiada) and has completed the building of a factory of standardisation of meat and charcuterie. It is about a vertically integrated pork production chain that promotes the pork production in wholesale or/and retail consumption.
The history:
The activities have started in 1973 with the creation of the company "Michael Vergos and Bros. Co.", which goal was the fattening of pigs for trading.
In the year 1992 the company "PYR.X.A. VERGOS S.A."  was created on a private land in location "Omorfada" of the Municipal District Dryofyto Filippiada, which  goal is the breeding and the trading of breeding pigs.
In the year 1997 the company "VE.Z.Z.O. S.A." was established, which aim was the building and the operation of a feeding mill factory as well as the operation of slaughterhouse facilities. The company had the goal of a vertically integrated pork production chain.
At the end is also the construction and the operation of a standardisation factory of meat and charcuterie, a project which started in the year 2009.
In the year 2013, the company with the name "Pork Meat of Epirus – VERGOS" was founded which goal is the retail sell of fresh pork meat as well as a variety of pork products through the retail shops in different spots in Greece.
The instigator and the creator of the first two companies was Michael Vergos, but the mastermind is his son Gregory Vergos, who inspired and created subsequently the rest companies. Today Gregory Vergos directs the activities of all companies. The circuit action extends throughout Greece and the Balkans (Albania, Bulgaria, etc.). In all establishments work more than 60 persons.